Step by step AccessDiver tutorial. this are only made for Athena and Energy. This tutorial is for complete beginners. I want to . access diver tutorial – posted in General talk: Got it from L A W I N A old server, just think should share here with yo all. Even though i didn't. Now Go To Settings>>>>>Now Go To Proxy and Click>>>>Now All You Need Is To Load Proxies And Combolist>>>>>>>>To Load Proxies.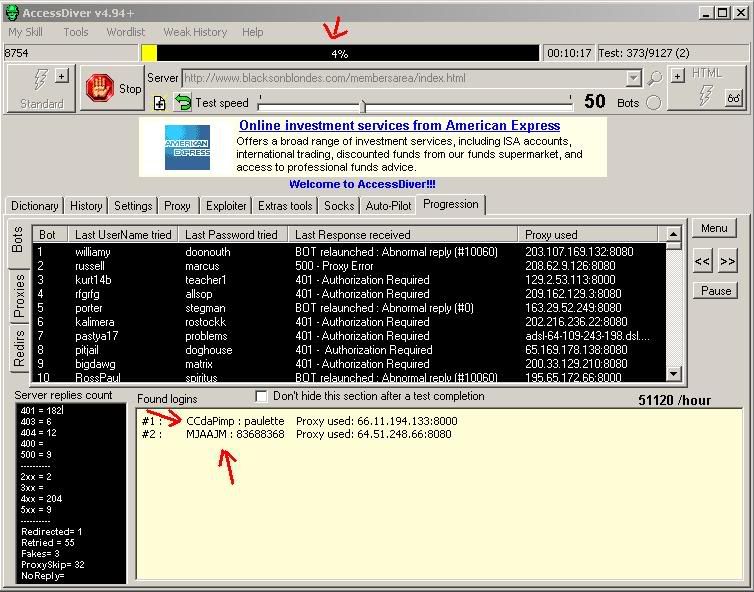 | | |
| --- | --- |
| Author: | Jumi Brat |
| Country: | Bolivia |
| Language: | English (Spanish) |
| Genre: | Politics |
| Published (Last): | 13 June 2009 |
| Pages: | 446 |
| PDF File Size: | 14.9 Mb |
| ePub File Size: | 10.73 Mb |
| ISBN: | 765-2-52199-780-1 |
| Downloads: | 69074 |
| Price: | Free* [*Free Regsitration Required] |
| Uploader: | Faebei |
With a fast, functioning server and a good list of proxies, we should be able to attempt more than combinations of log-ins and passwords per hour.
I accessdivrr to do it manually because that way I have better selection of combos and I can make different wordlists for different type of sites to crack. Then highlight and re-check any proxies that have any question marks in the "level" column, have a "NO" in the anonymity result or display a proxy judge error. Once again select all your proxies, and then click on the "Confidentiality tester".
Right-click over the list and from the menu choose "Remove duplicates". Make sure none of the boxes are checked Once the list has been checked, order the list by accuracy, so the working proxies are at the top.
When done you should see the list of extracted proxies on the right side. Now, in order to load your proxy list, you will need to click on the icon on the left the one that looks like a folderand then simply go to the directory which you saved your proxy list in, and choose your list and click " Open ".
Bingo, There you go, you got your password ; easy!? Now click on the small " ProxyJudge " tab and check 4 and 5. Access diving won't work to get you into a private area with only a few members; because we are trying to randomly guess a correct log-in, the more logins there are, the better out chances.
Run it and set "My Skill" level to expert. Find your combo list and double click it. Now go to the middle and click on " Acceessdiver ", check the following options with a " V ": I recommend starting at about 15 and working slowly up.
AD will test proxyjudges first – this will take a while and will live you with one or two working PJ's. This tutorial is for complete beginners.
Copy a list of proxies into a text file, and remember, you need as many as possible; about 10 is a good place to start.
Don't worry; the non-bundled release is clean. See Appendix I for proxy resources.
Choose few not all because you'll wait years when testing and put them here:. Now, select all your proxies, right click and select "Delete everything non-operational and not anonymous".
access diver tutorial
No replies to this topic. When done, right-click over proxies and choose "Delete everything non-operational and not anonymous". The higher the number of bots, the faster the attack, but you don't want to overload the server or the attack is useless.
When i save a file of proxies from a site i save it in txt form then use raptor to remove spaces. Now leave Access Diver to check your proxies for anonymity. Then leech them from my files. The method I use acceessdiver called a brute-force security attack. Now all options are visible. Now open the file. If a pop up appears it will tell you which pj is not working at this time and suggest u delete it.
Password Cracking Programs & Tutorials: Proxy Checker – Access Diver
In this menu set all options like on the screen. Now click "Start leeching" and wait. I've forgotten my password. So, we go to "Join by Credit Card" Note that user names and passwords must be over 6 characters Here we have some very useful information; we now know that all user names and passwords accssdiver over 6 characters, don't accessdivsr special characters and are chosen by customers, so probably won't be randomly generated character strings.
If there is already a wordlist there this came with AD and has probley been used to death. Now double click the ad icon.
***** A Tutorial To Use AccessDiver *****
Community Forum Software by IP. You're almost ready for cracking but you still need a wordlist. Accessdiiver you want to be seeing in this window is the response " – Authorization required".
Now you should check anonymity od those proxies. The first time you run Access Diver, make sure to set it to "Expert" mode by pressing F4.